Printed PVC Medical Tubing - Economical Inline Continuous Custom Print
Offered as an affordable alternative to PAD printing, our inline ink-jet printing is the most economical way to add custom print to your medical tubing. Add definition to tubes with names, logos, direction, procedural marks, or numerical characters that identify size.
Custom printing is a great way to identify or organize your plastic tubing. Plastic tube labeling typically involves ink-jet printing on one side of the tubing shaft for identification purposes or to add branding, logos & other graphics. For medical & dental applications, custom printing may also involve printing along the tube length to create markings for measurement. Tube printing is also used for safety applications including labeling tubing that will carry gases or potentially hazardous substances.
Tube printing is a great solution for labeling equipment & helps ensure that whoever replaces the tubing in the future will know what tubing to use. Plastic tubing can be custom printed with product specs, company names, contact information, & more, allowing parts to be easily identified for reordering.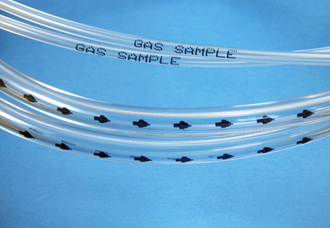 EXALT offers:
Single Layer or Multi-Layer Tubing
Traditional USP Class VI Medical Grades
DEHP-Free & Phthalate-Free Formulations
ETO & Gamma Compatible
Colored, Tinted, Striped & Frosted
Cut to Length/Neat Packed or Roll stock
Sizes: ID's & OD's from .010-.750", Lengths from .250"
Materials: PVC Resins from Mexichem Specialty Compounds (AlphaGary), Colorite Plastics, PolyOne & Teknor Apex
Ask the Experts
*It is the customer, or device manufacturer's responsibility to ensure that any given tubing is suitable for its intended application. No warranties are given; All implied warranties of merchantability or fitness for particular purposes are expressly excluded.