Tapered, Bump, & Funnel Medical Tubing
for Drug Delivery Catheters, Cosmetic Surgery Applications, Enteral Feeding
We manufacture custom tapered, funnel & bump tubing to your exacting dimensions, including inside & outside diameters, & taper length.
Extrusion cross sections can vary in size along their length. Such tapered extrusions are commonly used to create variable stiffness from proximal to distal ends or to ease connections at the proximal end. Inside diameters can remain constant, while the outside diameter changes along the end.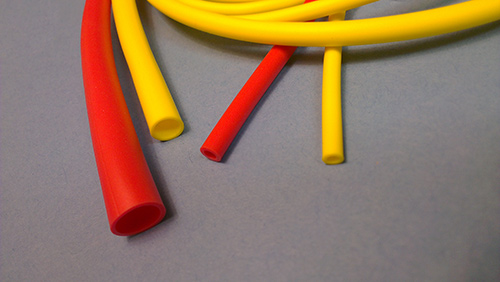 Tapered or bump tubing is used in a variety of medical device applications including:
Neonatal catheters
Peripherally inserted central catheter (or PICC line)
Neurovascular & cardiovascular ports
Drug delivery systems.
EXALT offers:
Traditional USP Class VI Medical Grades
DEHP-Free & Phthalate-Free Formulations
PVC-Free, Plasticizer-Free
ETO & Gamma Compatible
Colored, Tinted, Frosted
Cut to Length/Neat Packed
Sizes: ID's & OD's from .010-.750", Lengths from 3" to 14'
Materials: Durometers from 62A to 90A
PVC Resins from Mexichem Specialty Compounds (AlphaGary), Colorite Plastics, PolyOne & Teknor Apex
Polyurethane Resins from Lubritzol - Tecothane® & Tecoflex®, Bayer Covestro Texin®, BASF Ellastollan®
TPE Thermoplastics Elastomer Resins from Teknor Apex – Medalist®, PolyOne – GLS™ Versaflex, Exxon Mobile – Santoprene™, Saint-Gobain – C-Flex®
Ask the Experts
*It is the customer, or device manufacturer's responsibility to ensure that any given tubing is suitable for its intended application. No warranties are given; All implied warranties of merchantability or fitness for particular purposes are expressly excluded.